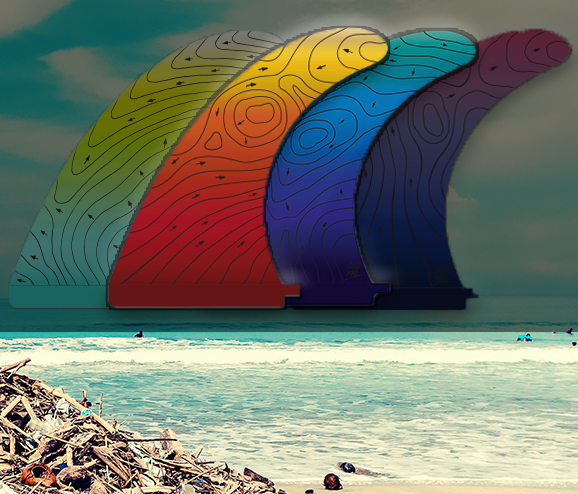 More Than Just a Surfing Fin
Like many we see the beauty in surfing, it's in many respects a pure art form. Gliding along walls of water, moving up and down gracefully on a mid-length or longboard it becomes a performance art in itself. Then there's the equipment. Surfboards can be customised in many ways, not just the materials that go into their fabrication, but also the colors used in lamination and custom artwork on the deck or bottom.
Fins of course, are perhaps a slightly easier component to customise with larger sizes such as our 9" offering more of a canvas than shortboard fins. It's still a painstaking process and requires just as much patience as when you're out in the lineup waiting for your turn. There's a lot of waiting around (for the paint to dry) and getting the lines just right. Also like surfing it's important to protect yourself, and in the fin creation process this means wearing a good mask as spray paint fumes are pervasive.
Surfing and art can combine beautifully together, and both are labours of love. We recently filmed the artwork process, offering a unique insight into the process. Although, this video appears to show a quick process it actually takes several days before a finished product.
Recycling Plastics and Making Art.
It's not a new concept to use discarded objects and items to create something of value. This concept is often used by many sculpturists and artists. The problem of plastics in our oceans is now well documented, and through adversity and catastrophe comes creation. It's amazing to see all these companies and individuals band together and exhibit their creativity. It's a movement were proud to be part of and for us as surfers there certainly feels like a paradigm shift.
We love using recycled materials to make something functional and also to create a new piece of art not seen before. It's our hope that our products should appeal to not only surfers but also art lovers. Our eco surf fins are the perfect example of this. Currently available in the following colours:
Our unique eco surf fins are currently limited in stock and available to buy via our online store.