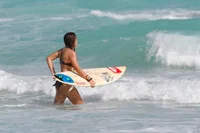 So it's official, there's gonna be no surf events for the rest of 2020 as the WSL announced last week that due to COVID-19 they are cancelling remaining surf events. I'll be honest, I wasn't actually too disappointed with this news, I make no bones about it I have gone off watching the surf events put on by the WSL. I even wrote about why WSL events are not the superbowl.
But, what I love about surfers and the community is that already they're finding creative ways to still provide some action and broadcast it live to the world. A great example of this is the upcoming RipCurl E-Pro (Virtual Series) scheduled to take August 1 through to August 15 in South Africa. The format is a great concept, entrants are limited to South Africans only and they submit their video clips (surf <= 8ft), and a panel decides who gets to compete. Already, it's run in other parts of the world such as Mexico.
The audience also wins, because they get to see up and coming talent in a specific country and a broader range of talent rather than the same old faces. I love how agile this concept is and how it's already been running since March. It just goes to show how creative the surfing community can be.
If you want more information, be sure to check out the action at surfwebseries.com/zaf.