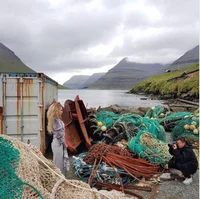 Is your Instagram feed in need of some inspiration? Do you want to find out more about sustainability and fashion? Fear not, we've put together the ultimate list of our top 10 eco conscious social media influencers. Make sure you give them a follow!
1. Anuschka Rees
Anuschka is a Fashion Blogger and writer of "The Curated Closet". Based in Berlin, she is a big advocate of wearing what you feel comfortable in and not because it pertains to someone's idea of beauty. Posts often reference the aforementioned book.
On Instagram: @anuschkarees
2. Sustainably Chic
Natalie Kay posts some great daily inspiration for people interested in sustainable fashion. A wide range of clothing ideas for all ages from kids to adults. As a mum, posts often feature sustainable fashion items for babies. 
On Instagram: @sustainablychic
3. Eco Cult
An account that juxtaposes slow sustainable fashion with travel perfectly. Offers a great insight to where many clothes are made these days, India and Bangladesh creating more awareness and shining a light on this part of the world, Alden Wicker as a journalist and blogger is a great advocate for the sustainable fashion movement.
On Instagram: @ecocult
4. Michelle For Good
LA based Michelle established The Tote Project, a project that supports sex trafficked survivors through selling ethical fashion bags. Her Instagram gives a great fun insights into the world of slow sustainable fashion. 
On Instagram: @michelleforgood
5. Eco Warrior Princess
Account run by Jennifer Nini who is on a mission to create awareness on the impact that our fashion choices have on the environment. Bringing together a mixture of eco-tourism, sustainable fashion and healthy living Jennifer's feed will certainly give you more than enough inspiration for leading a more sustainable lifestyle. 
On Instagram: @ecowarriorprincess