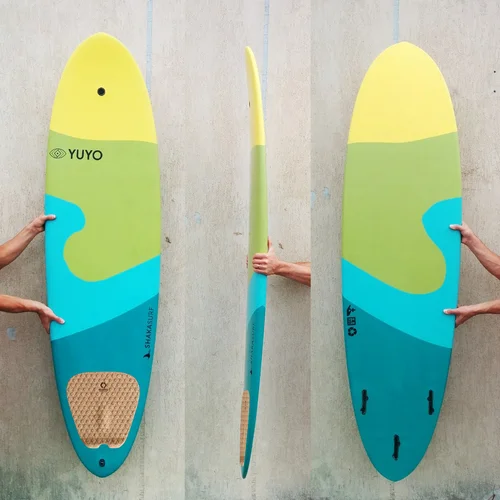 After months of planning, design and manufacture we're are today pleased to announce a very special collaboration project between us and Yuyo Surf to create the ECO Egg - probably the most environmentally friendly surfboard on this Earth. Constructed from recycled PET plastics (sourced from medical waste, thank you key worker legends!) and using biocomposite glassing made of natural basalt fiber and bio-epoxy resin making this one of the most, if not the most sustainably produced surfboard currently. Other surfboard manufacturers are still using foam, whether that's recycled EPS or non-recycled PU foam, from the outset the manufacturing of the ECO egg is using recycled PET plastics from medical waste reducing plastic waste in our landfills or off-shored to other countries to deal with.
About the board
Recognising that the average surfer needs something suitable for typical European beachbreaks and won't be surfing maxed out Nias or Cloudbreak type waves (especially not now with travel restrictions) the ECO egg was made for maximum fun and to keep surfers frothing for their next session. With plenty of volume (although not such a useful metric to get hung up about), at 38L this board offers a lot of buoyancy, lightweight and precision designed from the latest in 3D printing technology, there's no doubt about it - this will be your new favourite board. With a rounded pin, the board will also go well in bigger and more powerful waves, 6 - 8ft allowing for critical off-the-bottom turns and control off the top. Suitable for all types of surfers from beginners to advanced surfers/pros the ECO egg not only looks great but performs exceptionally well. Fin wise the system we opted for FCS II for it's ease of use, allowing surfers to quickly insert and take out their fins and not waste any time on any entering the lineup.
Designed By Shaka Surf produced by Yuyo Surf
Conceptualized earlier on in the year, this project was the result of a collaboration between Shaka Surf and Yuyo Surf. We bought to the table our recognised fin designs and Yuyo surf bought the designs to life with their 3D printing and glassing factory. The result is an all-round performer that is sustainably made and perfect for any surfers' ability. The ECO egg is a model we're exceptional proud off, from its environmental friendly attributes to its aesthetics. We're confident that you're gonna love it as much as did making it.
We are now taking orders for the ECO Egg is now available to buy exclusively through Shaka Surf, click here to buy.